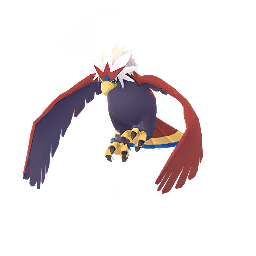 Braviary
#628 (Unima)
Table of contents
Miglior set di mosse (Braviary)
Tipologia del Pokémon
Evoluzione
There are currently a total of 2 Pokémon in the Rufflet family. Braviary evolves from Rufflet which costs 50 Candy.
Standard game images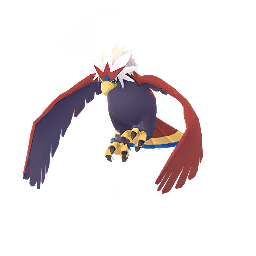 There is a very low chance that you can get a shiny Braviary, which has the following appearance:
Circa
"Noto come "l'eroe del cielo", è un Pokémon fiero e coraggioso che non scappa mai di fronte al pericolo, neanche quando è ferito."
Statistiche di base
| | | |
| --- | --- | --- |
| Attacco | | 232 |
| Difesa | | 152 |
| Resistenza | | 225 |
Max PL
Max PL with weather boost
Max HP
Taglia
Other
| | |
| --- | --- |
| Tasso cattura base | 0% |
| Tasso di fuga base | 0% |
| Buddy walk distance | 5 km |
Miglior set di mosse (Braviary)
Tutte le mosse
Tutti i Pokémon counter
Questi sono i Pokémon e le loro mosse che fanno maggior danno ai Braviary
| Pokémon | Mossa veloce | Mossa principale | Danno effettivo |
| --- | --- | --- | --- |
| Zekrom | Raggioscossa | Incrotuono | 100% |
| Tyrantrum | Sassata | Raggiometeora | 84% |
| Gigalith | Abbattimento | Raggiometeora | 79% |
| Zekrom | Dragospiro | Incrotuono | 76% |
| Terrakion | Doppiocalcio | Frana | 74% |
| Kyurem | Dragospiro | Gelamondo | 73% |
| Kyurem | Alacciaio | Gelamondo | 71% |
| Aurorus | Sassata | Raggiometeora | 70% |
| Aurorus | Polneve | Raggiometeora | 70% |
| Aggron | Abbattimento | Raggiometeora | 70% |
These moves are calculated using type advantages / disadvantages, and including STAB. Click here for more info »
Più vulnerabile contro Braviary
Questi Pokemon sono i più vulnerabili contro il set di mosse precedente.

| Pokémon | Danno effettivo |
| --- | --- |
These moves are calculated using type advantages / disadvantages, and including STAB. Click here for more info »
Commenti
IV
calc