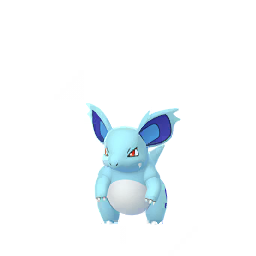 Nidorina
#30 (Kanto)
Table of contents
Miglior set di mosse (Nidorina)
Tipologia del Pokémon
Evoluzione
There are currently a total of 3 Pokémon in the Nidoran♀ family. Nidorina evolves from Nidoran♀ which costs 25 Candy, and evolves into Nidoqueen which costs 100 Candy.
Standard game images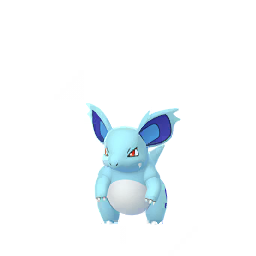 There is a very low chance that you can get a shiny Nidorina, which has the following appearance:
Circa
"Quando questi Pokémon si riuniscono con gli amici e la famiglia, tengono i loro aculei a debita distanza per evitare di ferirsi a vicenda. Se allontanati dal branco, diventano nervosi e irascibili."
Statistiche di base
| | | |
| --- | --- | --- |
| Attacco | | 117 |
| Difesa | | 120 |
| Resistenza | | 172 |
Max PL
Max PL with weather boost
Max HP
Taglia
Other
| | |
| --- | --- |
| Tasso cattura base | 25% |
| Tasso di fuga base | 7% |
| Buddy walk distance | 3 km |
Miglior set di mosse (Nidorina)
Tutte le mosse
Tutti i Pokémon counter
Questi sono i Pokémon e le loro mosse che fanno maggior danno ai Nidorina
These moves are calculated using type advantages / disadvantages, and including STAB. Click here for more info »
Più vulnerabile contro Nidorina
Questi Pokemon sono i più vulnerabili contro il set di mosse precedente.

| Pokémon | Danno effettivo |
| --- | --- |
These moves are calculated using type advantages / disadvantages, and including STAB. Click here for more info »
Commenti
IV
calc