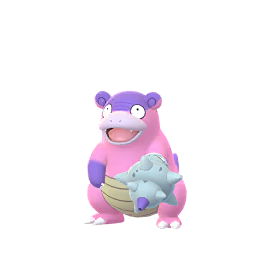 Slowbro - Galarian
#80 (Kanto)
Table of contents
Miglior set di mosse (Slowbro - Galarian)
Tipologia del Pokémon
Evoluzione
There are currently a total of 3 Pokémon in the Slowpoke (Galarian) family. Slowbro (Galarian) evolves from Slowpoke (Galarian) which costs 50 Candy.
Forms
There are 4 different forms of Slowbro:
Standard game images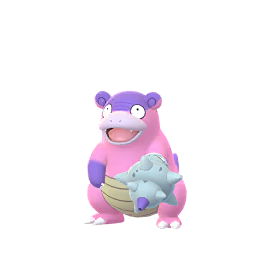 There is a very low chance that you can get a shiny Slowbro - Galarian, which has the following appearance:
Circa
"Slowbro ha uno Shellder saldamente attaccato alla coda, che quindi non può più essere usata per pescare. Così Slowbro può essere visto nuotare di malavoglia per catturare una preda."
Statistiche di base
| | | |
| --- | --- | --- |
| Attacco | | 182 |
| Difesa | | 156 |
| Resistenza | | 216 |
Max PL
Max PL with weather boost
Max HP
Taglia
| | |
| --- | --- |
| Altezza | 1,6 m |
| Peso | 70,5 kg |
Other
| | |
| --- | --- |
| Tasso cattura base | 20% |
| Tasso di fuga base | 6% |
| Buddy walk distance | 3 km |
Miglior set di mosse (Slowbro - Galarian)
Tutte le mosse
Tutti i Pokémon counter
Questi sono i Pokémon e le loro mosse che fanno maggior danno ai Slowbro
These moves are calculated using type advantages / disadvantages, and including STAB. Click here for more info »
Più vulnerabile contro Slowbro - Galarian
Questi Pokemon sono i più vulnerabili contro il set di mosse precedente.

| Pokémon | Danno effettivo |
| --- | --- |
These moves are calculated using type advantages / disadvantages, and including STAB. Click here for more info »
Commenti
IV
calc