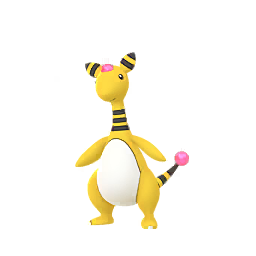 デンリュウ
#181 (ジョウト)
Table of contents
Best moveset (デンリュウ)
ポケモン タイプ
進化
There are currently a total of 3 Pokémon in the メリープ family. デンリュウ evolves from モココ which costs 100 Candy.
Evolving Mega デンリュウ costs 200 Mega Energy the first time, and 40 Mega Energy every other time.
Forms
There are 2 different forms of デンリュウ:
Standard game images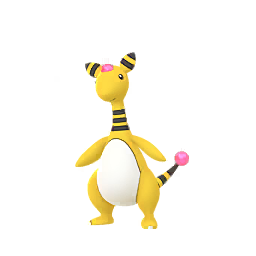 There is a very low chance that you can get a shiny デンリュウ, which has the following appearance:
About
"デンリュウの灯りは宇宙からも見える。昔の人はデンリュウの灯りを使い遠くの仲間と合図を送りあっていた。"
Base stats
最大CP
最大CP with weather boost
Max HP
サイズ
Other
| | |
| --- | --- |
| Base capture rate | 12.5% |
| Base flee rate | 5% |
| Buddy walk distance | 5 km |
Best moveset (デンリュウ)
全技
All counter Pokémon
These are the Pokémon and their moves that do the most damage to デンリュウ.
These moves are calculated using type advantages / disadvantages, and including STAB. Click here for more info »
Most vulnerable to デンリュウ
These are the Pokémon most vulnerable to the above moveset.

| Pokémon | Effective damage |
| --- | --- |
These moves are calculated using type advantages / disadvantages, and including STAB. Click here for more info »
コメント
IV
calc