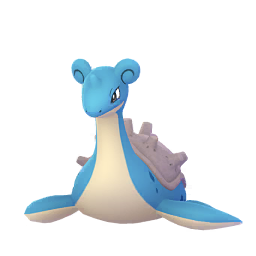 ラプラス
#131 (カントー)
Table of contents
Best moveset (ラプラス)
ポケモン タイプ
進化
ラプラス currently has no evolutions in Pokémon GO.
Forms
There are 2 different forms of ラプラス:
ラプラス Raid Guide
ラプラス is currently a Boss in Tier 3 Raids and has 14,847 CP, and has previously been Raid Boss in Tier 4 Raids.
Defeating ラプラス in a Tier 3 Raid requires around 2-3 players, and will become easier the more players you have. It is possible to solo this raid if you are level 35+ and have a very good set of counter Pokémon.
Caught CP (boosted)
12 - 32
Standard game images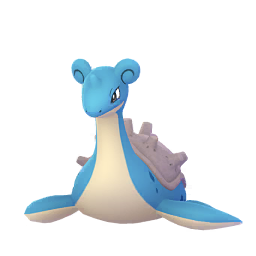 There is a very low chance that you can get a shiny ラプラス, which has the following appearance:
About
"人が絶滅の危機に追い込んでしまった。夕暮どきになると少なくなった仲間を探して悲しそうな声で歌うという。"
Base stats
最大CP
最大CP with weather boost
Max HP
サイズ
Other
| | |
| --- | --- |
| Base capture rate | 0% |
| Base flee rate | 0% |
| Buddy walk distance | 5 km |
Best moveset (ラプラス)
全技
All counter Pokémon
These are the Pokémon and their moves that do the most damage to ラプラス.
These moves are calculated using type advantages / disadvantages, and including STAB. Click here for more info »
Most vulnerable to ラプラス
These are the Pokémon most vulnerable to the above moveset.

| Pokémon | Effective damage |
| --- | --- |
These moves are calculated using type advantages / disadvantages, and including STAB. Click here for more info »
コメント
IV
calc